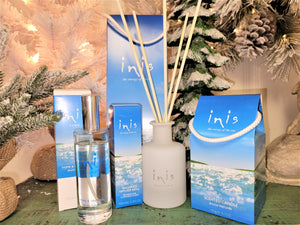 A sparkling, clean unisex fragrance that captures the feeling of a perfect sunny day by the sea, Inis is a boutique brand favourite around the world. Light and invigorating, the scent of Inis has an extraordinarily wide appeal to all ages, and to both women and men.
Inis is the Irish word for island, and the fragrance was inspired by the beauty and energy of the wild Atlantic coast of Ireland. The cold, pristine waters of the Atlantic Ocean are the source of the nutrient-rich seaweed found in all of our body care products.

Clean, light, yet lasting fragrance - energizing, top notes of lemon and marine bring a fresh feeling like sunshine on your face, heart notes of lily of the valley are like a soft summer breeze on your body, while base notes of sandalwood and clove give an earthy warmth like sand between your toes
The home fragrance gift set includes:
* Inis Fragrance Diffuser 100ml / 3.3 fl. oz.
* Inis Fragrance Diffuser Refill 100ml / 3.3 fl. oz.
* Inis Home & Linen Mist 100ml / 3.3 fl. oz.
* Inis Scented Candle 190g / 6.7 oz.